Deadlock Trailer #1 (2021) | Movieclips Trailers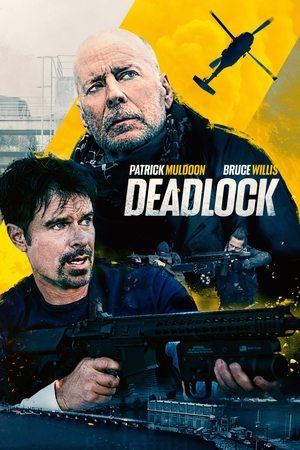 Deadlock
Overview
Mack is a former soldier who, after the war, moved to a town with a nuclear power plant, where nearly everybody works. Life is peaceful for him there, until a gang of mercenaries led by Ron storm the reactor and take everybody hostage, including a group of children on a school trip. Now Mack is in a race against the clock and must use his military training to defeat Ron before he puts the reactor into meltdown. Along the way he discovers Ron's motive, which unravels a greater secret Mack's town is hiding.
Cast
Patrick Muldoon

Bruce Willis
Matthew Marsden

Michael Devorzon
Johnny Messner
Stephen C. Sepher
Ava Paloma
Crew
Jared Cohn
Jared Cohn
Cam Cannon
Check out the Deadlock Official Trailer starring Patrick Muldoon and Bruce Willis! Let us know what you think in the comments below.
► Sign up for a Fandango FanALERT for Deadlock: https://www.fandango.com/deadlock-2021-226238/movie-overview?cmp=MCYT_YouTube_Desc
Want to be notified of all the latest movie trailers? Subscribe to the channel and click the bell icon to stay up to date.
US Release Date: December 3, 2021
Starring: Patrick Muldoon, Bruce Willis
Directed By: Jared Cohn
Synopsis: Bruce Willis stars as Ron Whitlock, a wanted criminal leading a team of mercenaries on a mission of vengeance. Convinced that the government is working against them, the merciless group brutally seizes an energy plant and holds everyone inside hostage. With a nearby town on the brink of massive flooding and destruction, it's up to one retired elite army ranger Mack Karr (Patrick Muldoon) to save thousands of innocent lives before it's too late.
Watch More Trailers:
► Hot New Trailers: http://bit.ly/2qThrsF
► In Theaters This Week: http://bit.ly/2ExQ1Lb
► Action/Sci-Fi Trailers: http://bit.ly/2Dm6mTB
Fuel Your Movie Obsession:
► Subscribe to MOVIECLIPS TRAILERS: http://bit.ly/2CNniBy
► Watch Movieclips ORIGINALS: http://bit.ly/2D3sipV
► Like us on FACEBOOK: http://bit.ly/2DikvkY
► Follow us on TWITTER: http://bit.ly/2mgkaHb
► Follow us on INSTAGRAM: http://bit.ly/2mg0VNU
The Fandango MOVIECLIPS TRAILERS channel delivers hot new trailers, teasers, and sneak peeks for all the best upcoming movies. Subscribe to stay up to date on everything coming to theaters and your favorite streaming platform.