La Casa de Papel: Parte 5 Vol. 2 | Tráiler Oficial | Netflix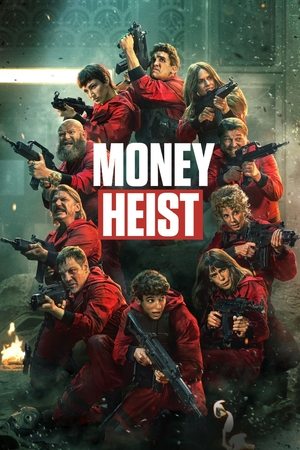 Money Heist
La Casa de Papel
Overview
To carry out the biggest heist in history, a mysterious man called The Professor recruits a band of eight robbers who have a single characteristic: none of them has anything to lose. Five months of seclusion - memorizing every step, every detail, every probability - culminate in eleven days locked up in the National Coinage and Stamp Factory of Spain, surrounded by police forces and with dozens of hostages in their power, to find out whether their suicide wager will lead to everything or nothing.
Cast

Álvaro Morte

Itziar Ituño
Úrsula Corberó

Alba Flores
Pedro Alonso
Jaime Lorente
Miguel Herrán

Esther Acebo
Rodrigo de la Serna
Enrique Arce

Darko Peric
Hovik Keuchkerian
Luka Peroš
Belén Cuesta
Fernando Cayo

Najwa Nimri
Fernando Soto
Seasons

Specials
Season 1

Season 2
Season 3
El mayor atraco del mundo llega a su fin. La última temporada de #LCDP5 se estrena el 3 de diciembre, solo en Netflix.
Vol. 1 ya disponible. Sólo en Netflix.
#LaCasaDePapel #Netflix
► Suscríbete en YouTube para ver todas los vídeos oficiales ('detrás de las cámaras', entrevistas, contenido exclusivo) : https://www.youtube.com/c/lacasadepapel?sub_confirmation=1
La Casa de Papel en Instagram: https://www.instagram.com/lacasadepapel/
La Casa de Papel en Facebook: https://www.facebook.com/lacasadepapelnetflix
La Casa de Papel en Twitter: https://twitter.com/lacasadepapel
Ver La Casa de Papel en Netflix: http://netflix.com/lacasadepapel