Being the Ricardos – Official Trailer | Prime Video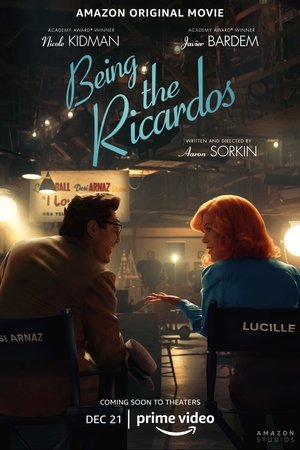 Being the Ricardos
Overview
Follows Lucille Ball and Desi Arnaz as they face a crisis that could end their careers and another that could end their marriage.
Cast
Nicole Kidman

Javier Bardem
J.K. Simmons

Jake Lacy
Nina Arianda

Alia Shawkat

Linda Lavin

Clark Gregg
Tony Hale
Robert Pine

Ronny Cox

Nelson Franklin

Christopher Denham
John Rubinstein

Jonah Platt
Matt Cook
Jamie Miller
Pamela Mitchell
Renee Pezzotta
Ron Ostrow

Breanna Wing
Dan Sachoff

John F. Carpenter

Lori Dorfman
Evie Nicholson
Crew

Francine Maisler

Jeff Cronenweth

Aaron Sorkin

Aaron Sorkin

Lucie Arnaz

Desi Arnaz Jr.
Daniel Pemberton
A story behind one of the most influential shows of all time. Here's the official trailer from Being the Ricardos, in theaters December 10 and on Prime Video December 21.
Lucille Ball (Nicole Kidman) and Desi Arnaz (Javier Bardem) are threatened by shocking personal accusations, a political smear and cultural taboos in Academy Award®-winning writer and director Aaron Sorkin's behind-the-scenes drama Being the Ricardos. A revealing glimpse of the couple's complex romantic and professional relationship, the film takes audiences into the writers' room, onto the soundstage and behind closed doors with Ball and Arnaz during one critical production week of their groundbreaking sitcom "I Love Lucy."
About Prime Video:
Want to watch it now? We've got it. This week's newest movies, last night's TV shows, classic favorites, and more are available to stream instantly, plus all your videos are stored in Your Video Library. Over 150,000 movies and TV episodes, including thousands for Amazon Prime members at no additional cost.
Get More Prime Video:
Stream Now: http://bit.ly/WatchMorePrimeVideo
Facebook: http://bit.ly/PrimeVideoFB
Twitter: http://bit.ly/PrimeVideoTW
Instagram: http://bit.ly/AmazonPrimeVideoIG
Being the Ricardos – Official Trailer | Prime Video

Prime Video
https://www.youtube.com/PrimeVideo