Season 4 Trailer | JURASSIC WORLD CAMP CRETACEOUS | NETFLIX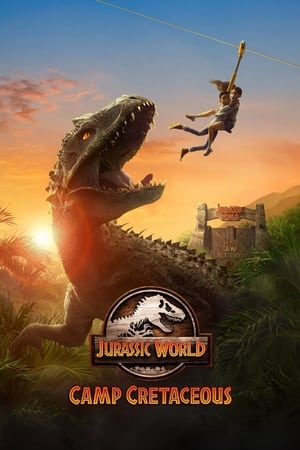 Jurassic World: Camp Cretaceous
Overview
Six teens attending an adventure camp on the opposite side of Isla Nublar must band together to survive when dinosaurs wreak havoc on the island.
Cast

Jameela Jamil
Glen Powell

Kausar Mohammed
Sean Giambrone
Paul-Mikél Williams

Jenna Ortega

Raini Rodriguez

Ryan Potter
Seasons

Season 1
Season 2
Season 3
The campers set sail away from Isla Nublar only to discover a new island full of mysterious threats. The escape is only the beginning in all-new episodes of Jurassic World: Camp Cretaceous, coming to Netflix on December 3rd!
SUBSCRIBE: https://uni.pictures/JW-Subscribe
About Jurassic World:
From Universal Pictures and Amblin Entertainment, Jurassic World immerses audiences of all ages in a new era of wonder and thrills where dinosaurs and humankind must learn to coexist. Jurassic World is set against a global backdrop of diverse locations, with a sprawling story grounded in believable science and populated by distinctive dinosaurs, heroic humans, and cunning villains at both ends of the evolutionary spectrum.
Cinema's only dinosaur-driven live action franchise, Jurassic World has earned three Academy Awards® and over $3.6 billion worldwide across four films. Its cross- generational appeal can be attributed to audiences' enduring fascination with dinosaurs and boundless imagination, both nurtured by each new installment. Jurassic World is more than a film franchise. It is a larger-than-life destination for exploration, discovery, and epic adventure. Dinosaurs live again, and they live in Jurassic World.
Connect with Jurassic World
Website: https://uni.pictures/JurassicWorldFal…
Like Jurassic World on Facebook: https://uni.pictures/JWLike
Follow Jurassic World on Twitter: https://uni.pictures/JWFollow
Follow Jurassic World on Instagram: https://uni.pictures/JWInsta
Follow on Snap: http://po.st/JWSnap
Connect with Universal Pictures
Like Universal Pictures of Facebook: https://uni.pictures/UPLike
Follow Universal Pictures on Twitter: https://uni.pictures/UPFollow
Follow Universal Pictures on Instagram: https://uni.pictures/UPInsta
Follow on Snap: http://po.st/UPSnap
Dinosaur Protection Group: http://www.dinosaurprotectiongroup.com/
Isla Nublar Site: http://islanublar.jurassicworld.com/
Season 4 Trailer | JURASSIC WORLD CAMP CRETACEOUS | NETFLIX

https://www.youtube.com/jurassicworld